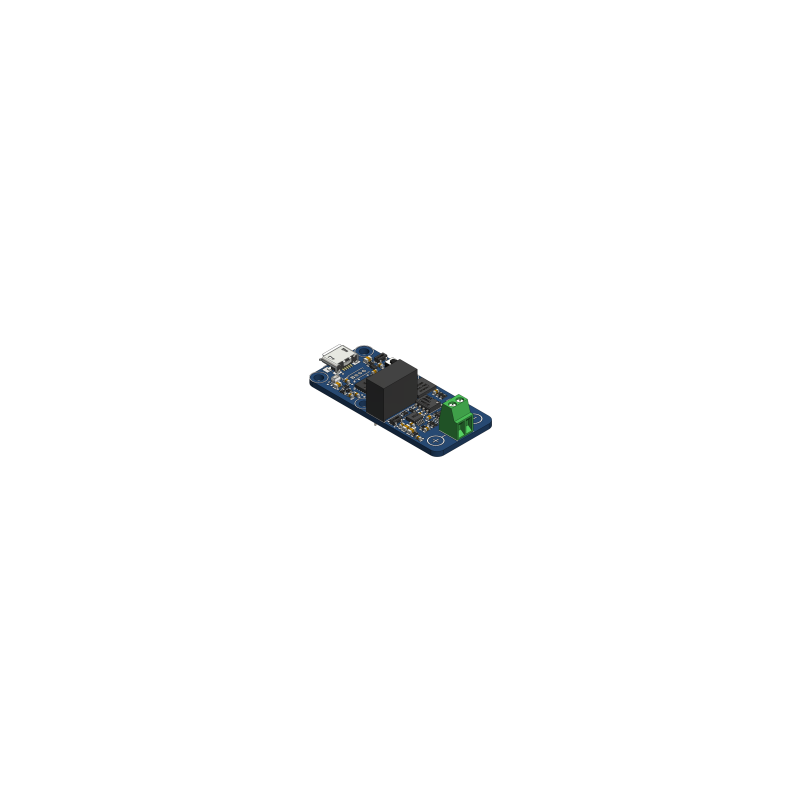  
Yocto-milliVolt-Rx
Small USB module to measure small and very weak electric signals. The device can convert the voltage measure to an equivalent physical measure on the fly, and includes a built-in datalogger. You can add Ethernet, Wireless or GSM connectivity to this device.
The Yocto-milliVolt-Rx device is a high precision USB voltmeter. It will let you measure by USB very small voltages (down to a few dozen of microVolts, and up to 2V max), even when they are generated by extremely weak sources (very high impedance). 
Typical applications include measurement of electro-chemical reactions (e.g. pH and redox probes), low-voltage sensors (e.g. gaz sensors, etc) or Wheatstone bridges (e.g. load cells, etc). It is also possible to use this device to precisely measure the voltage drop accross a shunt to measure high currents. 
The input circuit of this device uses a very low bias current amplifier (typ. 0.2 pA). The measure circuit is electrically isolated from the USB bus, which makes it possible to measure grounded voltages without risk of creating a ground loop. 
For measuring the weakest signals (e.g. pH measurements), it is recommanded to use the BNC variant of this product, which features a BNC connector to use with coaxial cable, and avoid electromagnetic interferences.
This device can be connected directly to an Ethernet network using a YoctoHub-Ethernet, to a WiFi network using a YoctoHub-Wireless-g, it can even be connected to a GSM network thanks to the YoctoHub-GSM.
USB cables and enclosure to be ordered separately.
* *

Data sheet
Width

20mm

Length

45mm

Weight

6g

USB connector

micro-B

Refresh rate

100Hz

Measuring range

-1000 ... +2000mV

Accuracy

0.1%

Sensitivity

0.01mV

Normal operating temperature

5...40°C

Extended operating temperature

-30...85°C

Supported Operating Systems

Windows (PC + IoT), Linux (Intel + ARM), macOS, Android

Drivers

no driver needed

RoHS

Yes

Suggested enclosure

YoctoBox-Short-Thick-Black

Made in

Switzerland
*