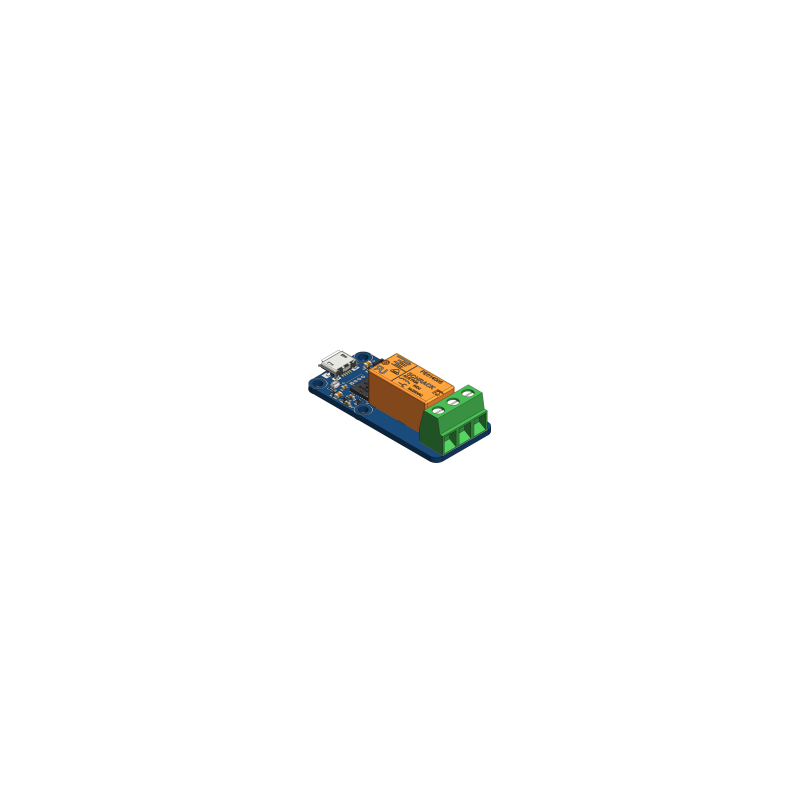  
Yocto-PowerRelay-V2
USB interface driving a tiny electromagnetic relay capable of switching directly mains powered appliances, up to 1250W. You can add Ethernet, Wireless or GSM connectivity to this device.
The Yocto-PowerRelay-V2 is a USB relay: it contains a USB-driven SPDT relay switch: you can drive by software the relay input to one of the two outputs. To make it easier to test your project, two leds positioned on each side of the connector show the output currently active. 
This device only includes a single relay, but it can drive higher loads than the Yocto-Relay device. The relay and the connector can stand 250 VAC and a current of 5A. When put in an adequate enclosure, the Yocto-PowerRelay-V2 can be used to switch directly appliances connected to the mains. Be aware that using a relay to drive inductive loads (motors, transformers) may lead to accelerated aging of the relay. Please refer to the documentation for hints on reducing this type of problems.
This device can beconnected directly to an Ethernet network using a YoctoHub-Ethernet, to a WiFi network using a YoctoHub-Wireless-g, it can even be connected to a GSM network thanks to the YoctoHub-GSM.
USB cables and enclosure to be ordered separately.
* *

Data sheet
Width

20mm

Length

45mm

Weight

12g

USB connector

micro-B

Channels

1

USB bus insulation

3kV

Max working voltage

250V AC

Max withholding voltage

1.5 kV

Max switching power

1250W

Max switching current

5A

Normal operating temperature

5...40°C

Extended operating temperature

-30...85°C

Supported Operating Systems

Windows (PC + IoT), Linux (Intel + ARM), macOS, Android

Drivers

no driver needed

RoHS

Yes

Suggested enclosure

YoctoBox-Short-Thick-Black

Made in

Switzerland
*