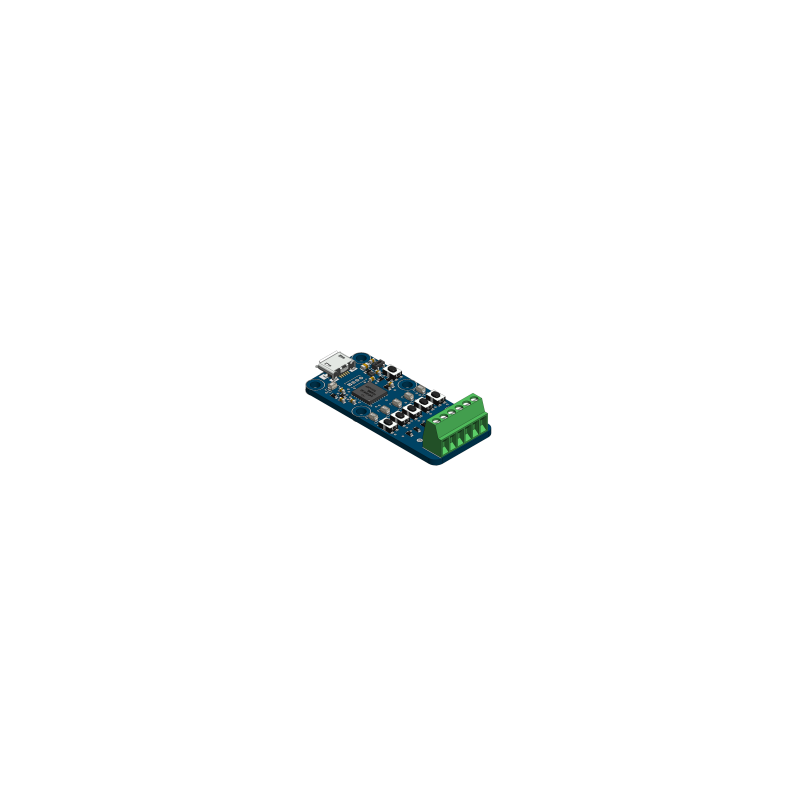  
Yocto-Knob
This USB module can read up to five push buttons, potentiometers or resistive sensors (photodiodes, etc) You can add Ethernet, Wireless or GSM connectivity to this device.
The Yocto-Knob device provides easy reading of 5 input buttons, contacts, switches or potentiometers (knobs) from USB. It is a kind of USB analog-to-digital converter (adc). It can also be used to read any analog resistive sensor, such as photodiodes. 
On the device, 5 tiny LEDs constantly show the value of the 5 inputs, and 5 micro-switches connected in parallel to the inputs simplify the testing of your project.
This device can be connected directly to an Ethernet network using a YoctoHub-Ethernet, to a WiFi network using a YoctoHub-Wireless-g, it can even be connected to a GSM network thanks to the YoctoHub-GSM.
USB cables and enclosure to be ordered separately.
* *

Data sheet
Width

20mm

Length

45mm

Weight

5g

USB connector

micro-B

Channels

5

Refresh rate

250Hz

Normal operating temperature

5...40°C

Extended operating temperature

-30...85°C

Supported Operating Systems

Windows (PC + IoT), Linux (Intel + ARM), macOS, Android

Drivers

no driver needed

RoHS

Yes

Suggested enclosure

YoctoBox-Short-Thick-Black

Made in

Switzerland
*