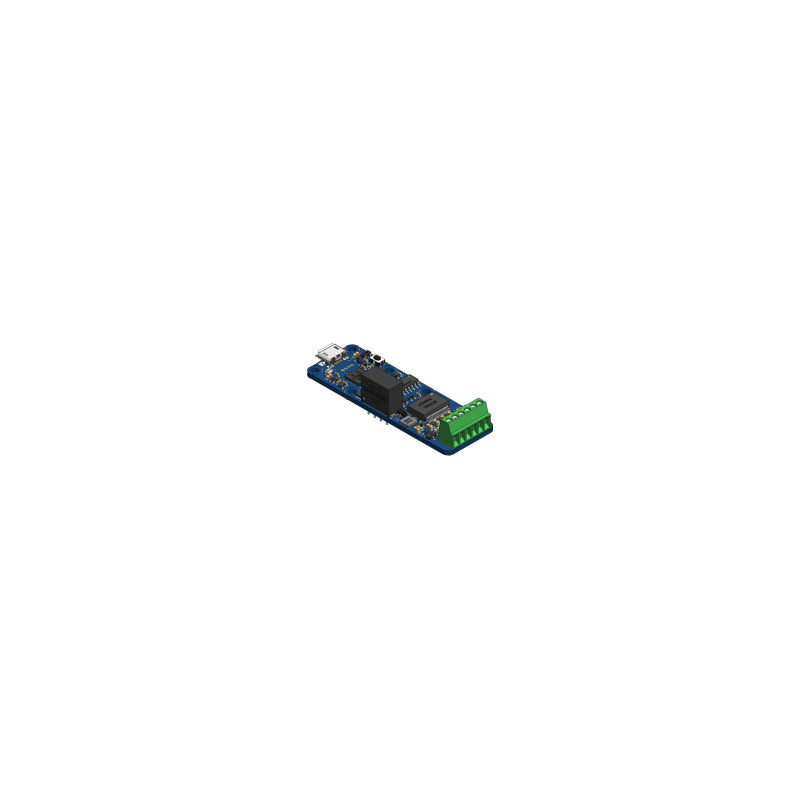  
Yocto-IO
This device provides 4 digital I/O isolated from the USB bus. You can add Ethernet, Wireless or GSM connectivity to this device.
The Yocto-IO device provides 4 digital I/O, electrically insulated from the USB bus. Each I/O bit can be configured individually as a simple input, an open-drain input (internal pull-up), a TTL/CMOS-like output or an open-drain output (open collector). 
Without external power source, each I/O pin can receive or produce a digital signal at 3V or 5V levels (low current). 
With an external power source, the device can work with voltages up to 28V and deliver up to 250mA per channel, which makes it possible to drive small relays for instance. 
If you need more channels, you can use the Yocto-Maxi-IO-V2.
This device can be connected directly to an Ethernet network using a YoctoHub-Ethernet, to a WiFi network using a YoctoHub-Wireless-g, it can even be connected to a GSM network thanks to the YoctoHub-GSM.
USB cables and enclosure to be ordered separately.
* *

Data sheet
Width

20mm

Length

60mm

Weight

9g

USB connector

micro-B

Channels

4

Refresh rate

250Hz

USB bus insulation

1kV

Chipset

NCV7608

Max working voltage

28V

Normal operating temperature

5...40°C

Extended operating temperature

-30...85°C

Supported Operating Systems

Windows (PC + IoT), Linux (Intel + ARM), macOS, Android

Drivers

no driver needed

RoHS

Yes

Suggested enclosure

YoctoBox-Long-Thick-Black

Made in

Switzerland
*