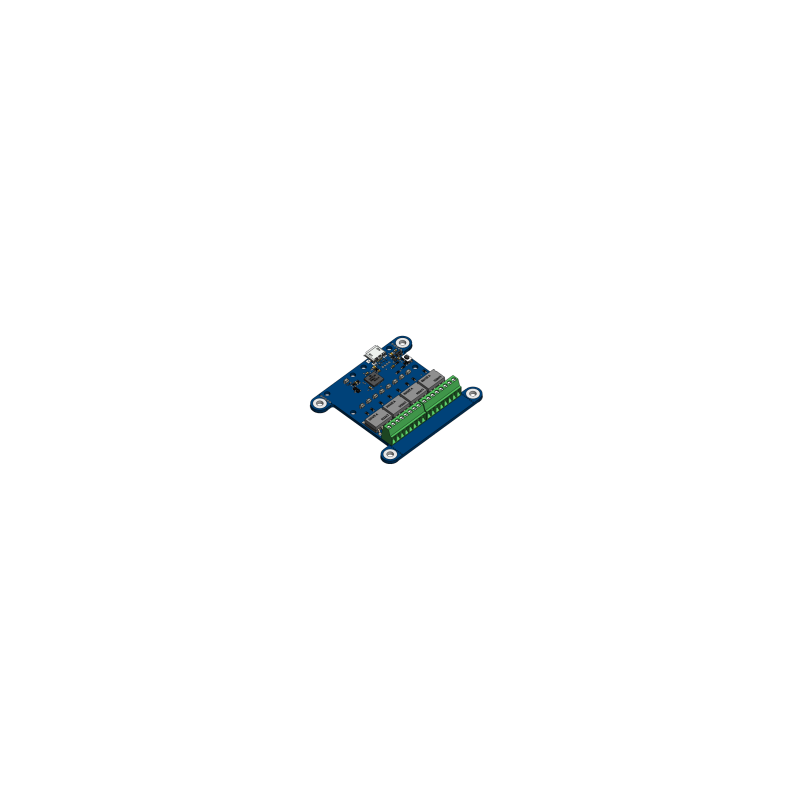  
Yocto-MaxiCoupler
This device features 8 small solid state relays, ideal to drive high-power relays You can add Ethernet, Wireless or GSM connectivity to this device.
This USB device features 8 solid state relays, capable to switchup to 160 VDC or 30 VAC, for small loads (up to 100 mA). It is an ideal solution to drive high-power relays. The state of each output is shown by a LED. This device does not require any external power. 
Beware that each solid state relay can only switch at most 100 mA. The terminal block is certified up to 160V, so the device should only be used with power sources protected against overvoltages (Cat. I). Note that even when closed, each relay keep a 25 ohms resistance. This device is mostly meant to drive large electromechanical relays, but other uses are possible. 
This device can be connected directly to an Ethernet network using a YoctoHub-Ethernet, to a WiFi network using a YoctoHub-Wireless-g, it can even be connected to a GSM network thanks to the YoctoHub-GSM.
USB cables and enclosure to be ordered separately.
* *

Data sheet
Thickness

10.1mm

Width

58.3mm

Length

50mm

Weight

15g

USB connector

micro-B

Channels

8

Max working voltage

60V DC

Max withholding voltage

120V AC

Max switching current

0.1A

Normal operating temperature

5...40°C

Extended operating temperature

-30...85°C

Supported Operating Systems

Windows (PC + IoT), Linux (Intel + ARM), macOS, Android

Drivers

no driver needed

RoHS

Yes

Suggested enclosure

YoctoBox-MaxiIO-Transp

Made in

Switzerland
*